Caséta is the ultimate in compatibility. It doesn't require a neutral wire, which allows it to be used in both new and older homes up to 2,500 square feet in size. And because it is tested and recommended on over 1,000 bulbs and works with dimmable LEDs, incandescent, and halogen bulbs, there's no need to purchase special bulbs.


This expanded wireless total home control system gives you the ability to adjust the amount of daylight, electric light, and temperature throughout your home. The system also turns off standby power to small appliances when they're not in use.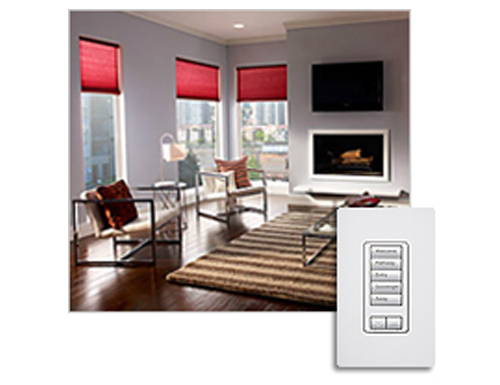 Flexible, Scalable, Reliable
Choose from a variety of wireless components to customize and expand your system from a single room to your whole home. Seamlessly integrate with the full line of Lutron wireless shades and drapes, as well as occupancy / vacancy sensors and Lutron thermostats, for total home control.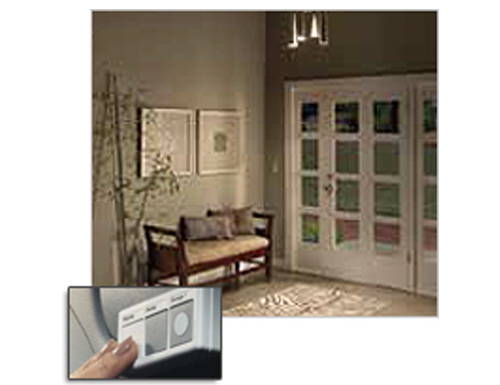 Safety & Comfort: Inside and Out
Conveniently turn on your lights from the comfort of your car as you approach your home. Create a path of light from your entryway through your kitchen, so you'll never walk into a dark house again.

2-button and 4-button scene keypads are available preset and pre-engraved with common scenes, for typical activities in your home.


Adjust lights, shades, or audio from anywhere in a space with a Pico wireless control. This versatile and easy-to-use control requires no wires and is compatible with a wide variety of Lutron lighting, automated window treatment solutions, and audio systems.
Configure for use as a wall-mount control, table‐top control, car visor control, or handheld control.
Easily add a new or additional point of control without the need for new wires.
Fits inside a standard decorator opening faceplate.
Indicator LED for visual feedback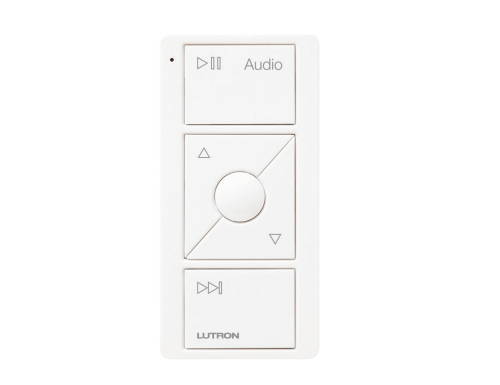 Adjust audio without having to launch an app. Play/pause, skip tracks, raise/lower volume, and select your favorite playlist or station.
Compatible with Caséta Wireless, RadioRA 2, and HomeWorks QS**Lutron Smart Bridge, Smart Bridge Pro, or Connect Bridge required
Reliably integrates with several home audio systems, including Sonos
Available in White and Black finish options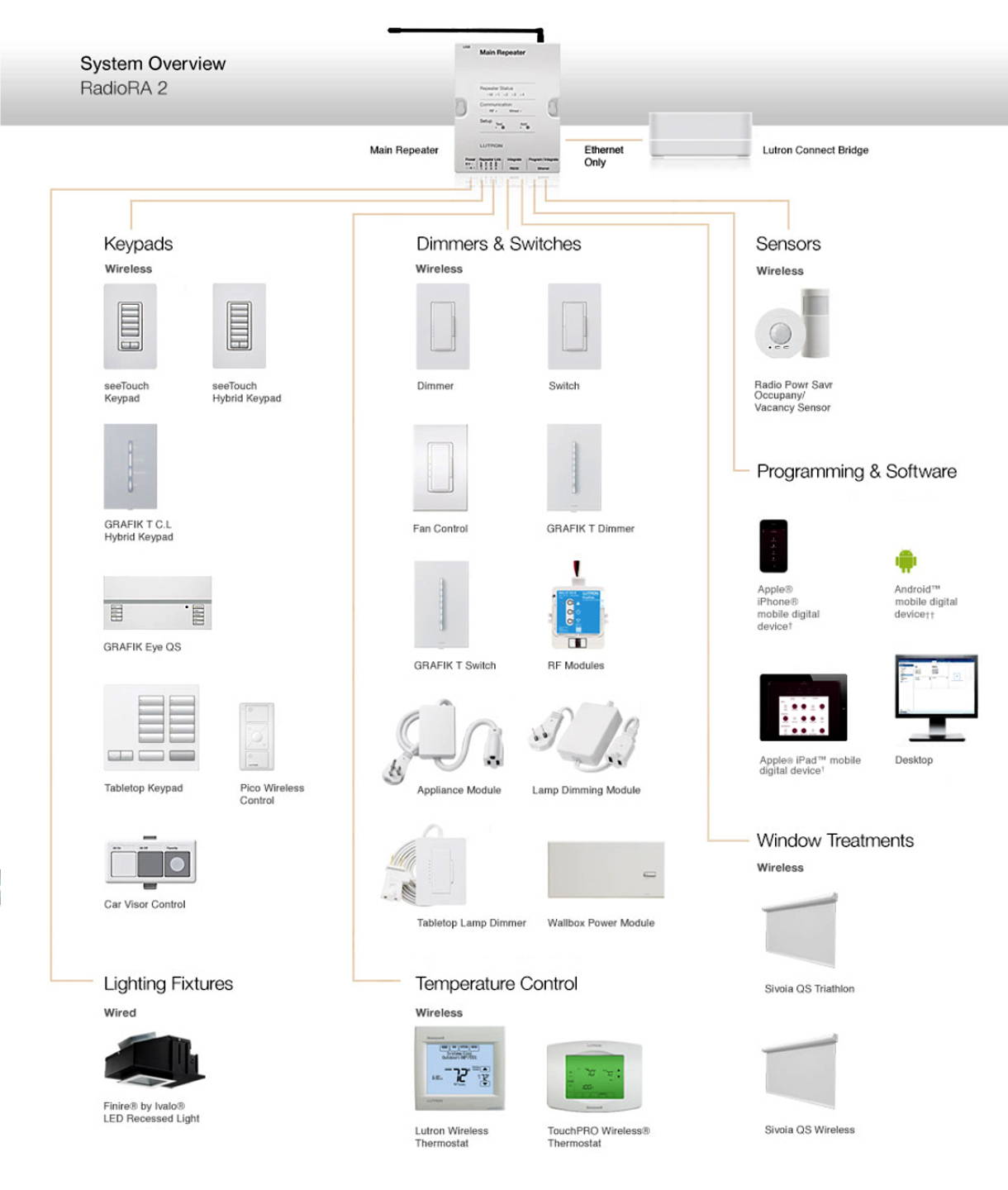 The diagram above provides an overview of the components that constitute the RadioRA 2 system, as well as compatible Lutron products.
Lutron Connect Bridge and the Connect App
The Lutron Connect Bridge creates a link between RadioRA 2 and the cloud, enabling control, integration and monitoring of a RadioRA 2 system from a smartphone or tablet using the Lutron Connect app.

Personalization
Add personalized scenes to control multiple lights, shades, audio, and temperature together with the touch of a button. Create a "relax" scene that dims lights, lowers shades, raises the temperature, and plays your favorite tunes as you unwind for the day. Or create a "Goodnight" scene that turns off all lights, lowers shades, and sets back the temperature before you drift off to sleep.
Scheduling
Schedule lights and shades to adjust automatically at set times of day. Turn on exterior house and path lights at sunset and turn them off at sunrise. Turn lights on to a soft level and slightly raise shades every morning as you head into the kitchen for coffee.
Geofencing
The geofencing feature controls lights based on your location. Maybe you always leave the entryway lights on as you head out the door in the morning? Geofencing will turn them off for you once you're out the door. It can also turn lights on for you when you come home.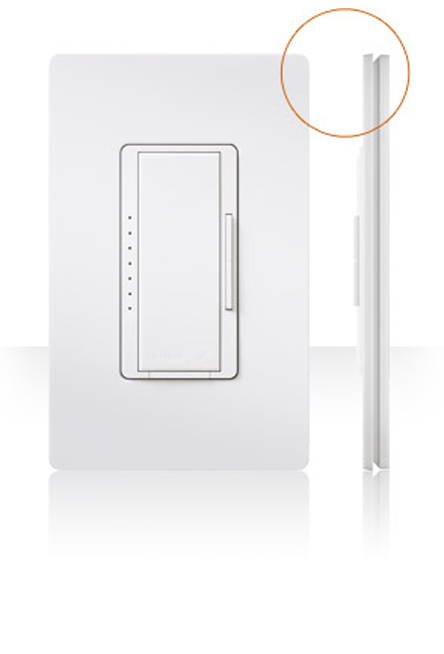 Contemporary settings demand the soft corners, fashionable colors and tasteful textures provided by Designer style wallplates and accessories.

Available in Gloss and Satin Colors finishes
Rounded corners, crisp edges
All products use standard Designer opening
Wallplates are screwless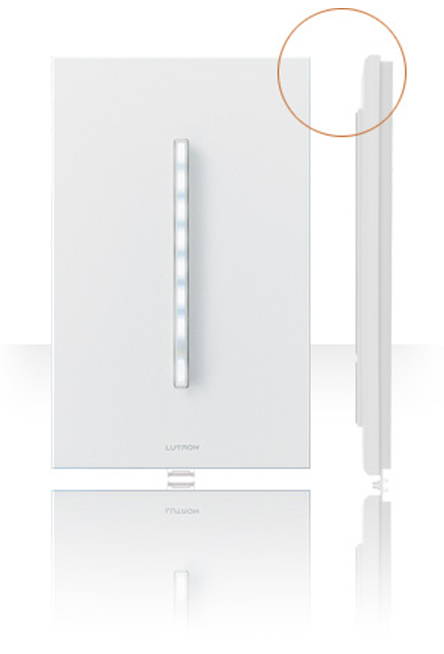 Clean lines, smooth texture, and sophisticated styling make our New Architectural style the minimalist choice for a completely modern look.

Available in Matte, Glass, and select Metal* finishes
Square corners, flat edges
Wallplates are screwless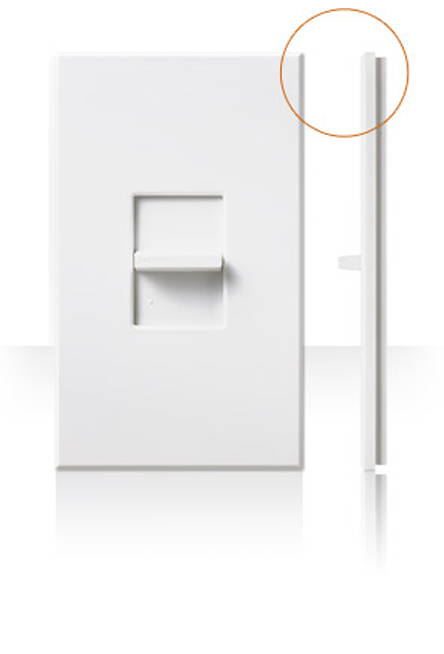 A well-defined, simple form with square corners and beveled edges make our Architectural style the essence of simplicity.

Available in Matte, Glass, and Metal* finishes
Square corners, beveled edges
Wallplates are screwless

Finiré LED Recessed Lighting, from the Lutron Ivalo Collection, eliminates the guesswork of ensuring compatibility between LED fixtures, drivers and controls while guaranteeing high efficacy performance. Finiré works with Hi-lume LED driver compatible controls and dimmers, with products such as RadioRA 2 and HomeWorks QS.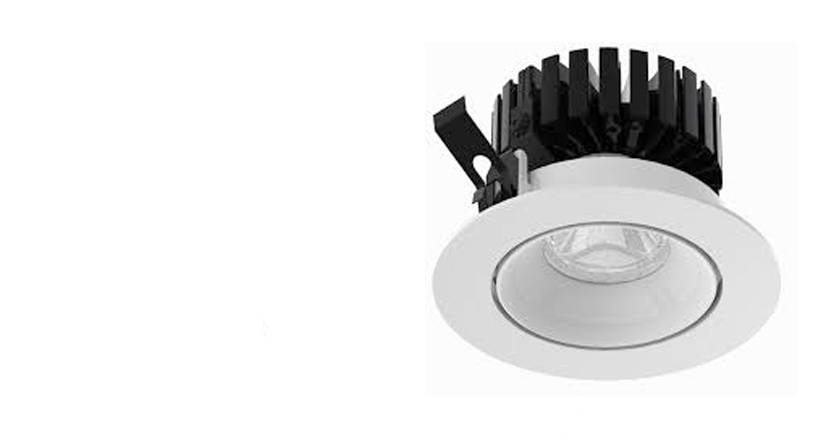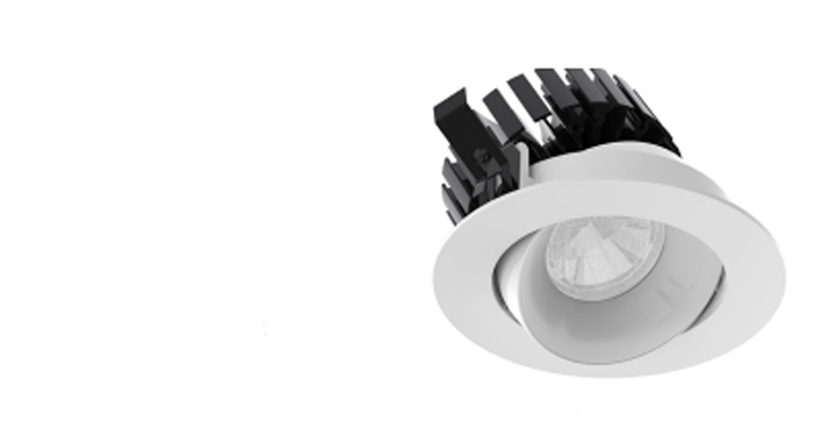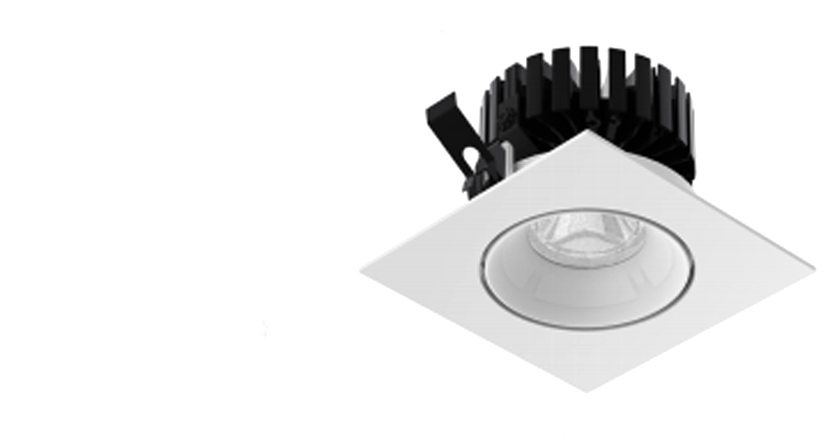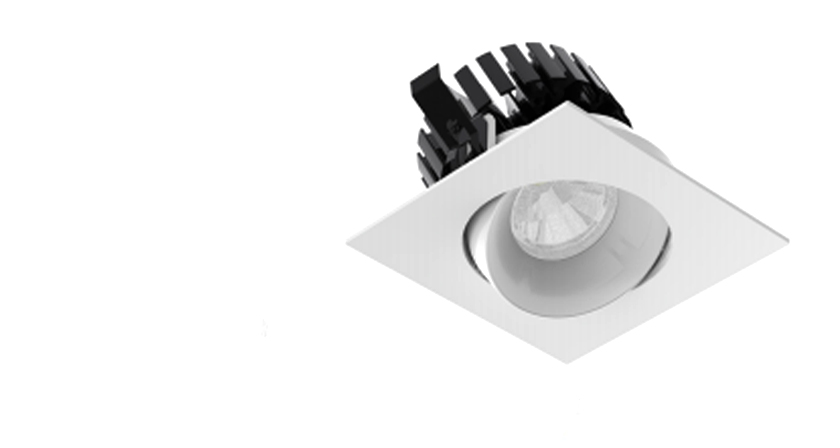 LED luminaire, 90+ CRI, 1000 lumensmaximum for IC and Non-IC, 850 lumenstypical for Shallow IC.
2 step MacAdam Ellipse color consistency.
Standard Lutron LED Driver deliverscontinuous, flicker-free dimming from 100%down to 1% of measured light output.
Hi-lume 1% EcoSystem LED driver featuresSoft-on, Fade-to-Black technology.3
Title 24 and Energy Star compliant.) 5 year fixture, LED driver, and dimmingwarranty.) 2-wire and EcoSystem control options.
2700 and 3000 K CCT.
30° and 65° optics available.
Includes high efficiency frosted lens.
IC and non-IC fixture options available.
IC fixtures are rated for spray foamapplications.4
IC fixtures must be used in installationscontaining insulating materials. Non-IC fixturescannot be used in these types of applications
IC fixtures meet airtight constructionrequirements for 2.0 CFM or less airleakage.) Frame constructed using galvanized steel.
Luminaires offer 25° maximum tilt.
Fixture rotation is achieved throughrotating entire trim/LED module. Roundoffers 360° rotation and square offersrotation in 90° increments.
Supplied with standard 14 –24 in(356 – 610 mm) adjustable bar hangers.)
Luminaires accommodate up to 0.625 in(16 mm) ceiling thickness. Thick ceilingaccessory available for up to 1.5 in(38 mm) ceiling thickness.)
Field replaceable components [driverand light assembly (trim, reflector, andLED module)].)
Wet location trim available.2

Ambient Operating Temperature: 32–104 °F(0–40 °C)
Decibel Rating: Quiet in a 25 dB room
Maximum Ceiling Thickness: 0.625 in (16 mm)
Ceiling Cutout: ø 4.5 in (114 mm)
Fixture Weight: 8 lb (3.6 kg) IC 4.5 lb (2 kg) Non-IC
Fixture Size:
– IC: 18.9 in x 9.5 in x 6.0 in(480 mm x 241 mm x 152 mm)
– Non-IC: 10.5 in x 7.7 in x 3.5 in(267 mm x 196 mm x 89 mm)
– Shallow IC: 18.9 in x 9.5 in x 3.9 in(480 mm x 241 mm x 99 mm)
Junction Box Size: 5.6 in x 3.0 in x 1.6 in(142 mm x 76 mm x 41 mm). See NEC chart314.16A for box fill/wiring capacity.